Study many aspects of Acupressure, from using self-treatment for relieving common complaints,
immune boosting, stress and pain relief to enhancing sexual intimacy.
Acupressure for Emotional Healing
Acupressure for
Anxiety & Nervousness

Fortunately, you can help yourself feel better from anxiety and nervousness with a combination of holding Acupressure points, deep breathing, a balanced whole foods diet, and getting plenty of daily aerobic exercise. This comprehensive approach gives you all the elements you need.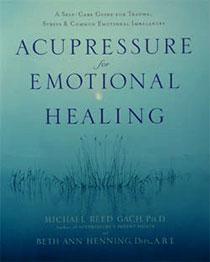 Acupressure for Emotional Healing
Traumatic events and painful experiences cause the body to shut down and trap negative feelings. This can result in physical ailments and emotional imbalances. Self-Acupressure releases the muscular tension from traumatic experiences and restores the flow of vital energy, making resolution possible.
Additional Acupressure Techniques
Acupressure &
Shiatsu Therapy
Shiatsu Therapy is the traditional therapeutic form of Asian bodywork and massage that uses deep penetrating pressure to stimulate the Acupressure points. Releasing these healing points opens the flow of energy in the meridians, tones the musculature and also increases the circulation of the blood.
Acupressure &
Tuina: Chinese Massage
Tuina Chinese Massage (also known as Tui Na) stimulates the Qi or Chi (the healing energy flow) using Acupressure hand movements, full body stretches, joint rotations, and other Chinese massage methods. Tuina is a vigorous form of massage that originated in China.
Thai Massage
with Acupressure
Thai Massage is an ancient healing practice that uses massage and Acupressure along with stretching exercises to reduce stress and promote well-being. This article will explore how to fully combine Acupressure with Thai Massage, including wisdom about how the vital life energy works in both.
Acupressure with Other Healing Methods
Acupressure for Premature Ejaculation
Acupressure can be helpful for both promoting healthy sexuality and for addressing a number of sexual problems. This article covers the definition of premature ejaculation, a case study, causes, four aspects of erections, dietary recommendations, and helpful Acupressure resources.
Acupressure for
Sexual Healing
Inhibited sexual desire is simply the inability to enjoy normal sexual activities. It affects both men and women. In this article, you will learn about various causes for this condition and the seven key steps you can take for sexual healing and to cultivate a healthy sexuality.