Acupressure Point Chart Download
Learn Traditional Chinese Medicine (TCM)
This useful Acupressure chart illustrates the following point functions:
Source Points: balance energy within each meridian
Alarm Points: vital for assessing a meridian's condition
Gates of Chi Points: a tonic for immune system boosting
Yu Points: benefit the nervous system and each internal organ
Master Extraordinary Points: powerful energy balancing points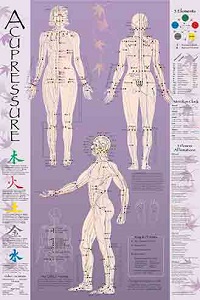 Download this violet full-color
Acupressure Chart
Illustrates all 12 meridians, source points, alarm points and chi control points with color coding. Front, back and side views all in one chart. Includes five element affirmations and laws.
Plus: Comes with 16-page reference booklet containing point recipes for common ailments.
Full Color:
Acupressure Point Reference Chart highlighting the most potent acupressure points. Includes all 365 traditional points and 12 meridians. Most Acupuncture posters don't show points on a woman's body; this one does. You'll find more great chart features below.
Point Recipe Booklet for Common Complaints
All Acupressure Charts come with 16-page point reference booklet. Comprehensive article on Acupressure Therapy included in the booklet. Inside the booklet you'll find point recipes for relieving:

Headaches
Backaches
Neck pain
Insomnia
Colds & flus
Knee pain
Arthritis
Asthma
Menstrual tension
Emotional balancing
Stomachaches/Indigestion
Upper and lower body pain
Plus Five-Elements & Color Coded Acupressure Meridians. Discover five element seasons, tastes, smells, fluids, symptoms, and organs. All five element information is integrated into healing affirmations.
NOTE: There are two numbering systems on bladder meridian charts. Both use the same exact points and locations, but the numbers differ, due to the order in which the points are presented. Both systems are used in modern clinics of acupuncture and acupressure.
In one system the inner bladder line is tracked to the sacrum, the numbers pick up at the outer bladder line and then all leg points have higher numbers than the outer line on the back. In the second system, the inner bladder line is tracked all the way to the knee, and the outer bladder line numbers are greater than those of the thigh. Below the knee the numbers are identical in the two approaches.