Acupressure
Stress Management
Stress makes most problems worse —
especially health problems. Over 80% of our most common complaints are caused or worsened by stress.
The good news is that Acupressure points can resolve hundreds of stress syndromes. These are problems that millions of people suffer from, but you can learn how to relieve them with easy-to-learn techniques, such as the one I'm giving you here.
Acupressure reduces stress. Acupressure points are not only the key places where our tension and stress accumulate, they are also the most effective spots on the body to release stress and stress-related problems.
Stress Can Strangle Your Life
I grew up in Los Angeles, one of the most stressful cities in the United States.  I developed a strong interest in learning how to deal with everyday stress, since I witnessed L.A. grow from a large town in the 1950s to the high-powered, stressful, big-city living there now. Growing up, I was seeing more and more stresses in people's lives. This inspired me to develop effective self-care methods that relieve tension and counteract stress.
My aspiration is to show you how to take care of yourself with simple self-help methods using Acupressure points. To go further, I find that combining Acupressure point stimulation with a gentle stretches, positive affirmations, and slow, deep breathing heightens your own ability to relieve stress even more. My many books, the audios mp3s called Stress Relief and Sleep Better, and the Acupressure Videos all present how to use stress-management techniques with many important Acupressure points.
Acupressure Stress Relief Points
Stress Relief Point: Elegant Mansion (K27)
There's a great Acupressure stress-reduction point on your chest, K27. This point, called
Elegant Mansion,
is located in the hollow below the head of your collarbone, next to your breastbone. This immune boosting point is effective for clearing stress, relieving chest congestion, and opening up the breathing passages. Deep breathing is also key for relieving stress.
Holding K27
I often hold this Acupressure point throughout the day – using firm, steady pressure and breathing deeply. This helps me get a handle on stresses in my life. We all have stress in our lives, and most people know how draining that can become. The idea here is not to analyze your behavior or your difficulties, but instead learn how to counteract the stress – by releasing it and transforming it into usable healing energy.
By holding K27 firmly on both sides, while breathing deeply into the pressure being applied, you can cultivate the courage to face the causes of your stress and the obstacles in your life, and learn to rejuvenate yourself to move forward in a better way.
You can also simply hold this point with one hand while you're busy doing other things during the day, such as reading or talking on the phone.
Tapping K27
While taking deep breaths, try tapping these points on both sides at the same time. Tapping activates the points, which makes the Acupressure results occur faster and more dramatically. This is why tapping Acupressure points has grown so popular. However, I have found that these results do not last as long as other Acupressure Therapy methods. If you simply hold the point at various depths of pressure while you breathe deeply, you may find using this Acupressure point even more relaxing, and it opens your healing energy on a deeper level.
RESOURCES TO LEARN MORE
Stress Relief Article — Here's a detailed article, titled "Immune System Boosting," that has extensive information about healing and many points and exercises to use for self-treatment.
Acupressure Healing Meditations Course — This 4-week online course will teach you how to enhance meditation using Acupressure points. It includes many audios and videos and a course workbook.
Acupressure Stress Management Videos — Rentals, Downloads, & DVDs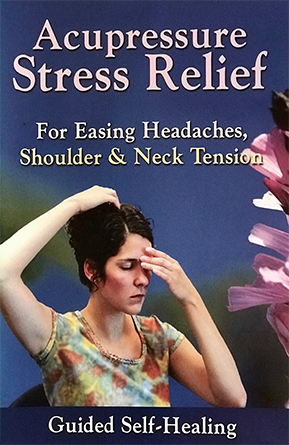 Acupressure Stress Relief
After just 30 minutes of following this guided self-healing program for easing headaches and shoulder and neck tension, I believe you'll become remarkably more relaxed. It's easy to follow this Self-Acupressure massage routine, and is done comfortably, seated in a chair. Discover 10 points to relieve stress that you can use anytime and anywhere.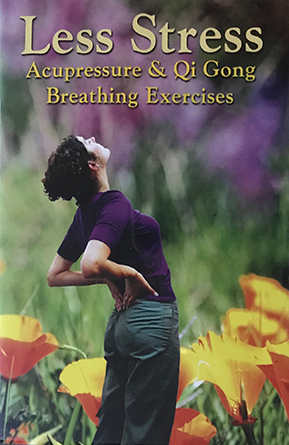 Less Stress: Qi Gong Breathing Exercises
I had a recent client with multiple stress-related problems practice this 20 minute set of deep breathing exercises twice a day. For the first time since raising her five children, she is getting a handle on her life. Many of her children are doing these simple exercises and Acupressure techniques achieving great results with her.