Acupressure for
Emotional Healing
Self-Care Guide for Trauma, Stress & Common Emotional Imbalances
500 Photos & Illustrations; 308 Pages
Locate vital points, learn healing affirmations and self-acupressure for counteracting twenty emotional issues and problems.
Featuring step-by-step instructions illustrated with more than 400 photographs and drawings.
Learn emotional healing acupressure points and affirmations for depression, grief, PTSD, anxiety and worry.
Item #B117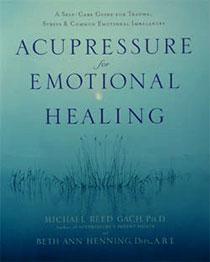 This book offers a comprehensive A-Z guide to emotional ailments, with fully-illustrated instruction on dozens of precise acupressure point locations and how to activate them, combined with yogic breathing, stretching and movement routines.
Emotional Healing Chapters on:
Abandonment & Codependency
Addictions
Anger, Jealousy & Resentment
Anxiety & Panic Attacks
Chronic Fatigue & Fibromyalgia
Depression & Mood Swings
Emotional Numbness
Grief & Fear
Sexual Abuse, Guilt & Shame
Worry & Self-Doubt
Post-Traumatic Stress Disorder
Stress & the Emotions